Luxury Travel Guru - Lara Haworth - Talks " My Mykonos"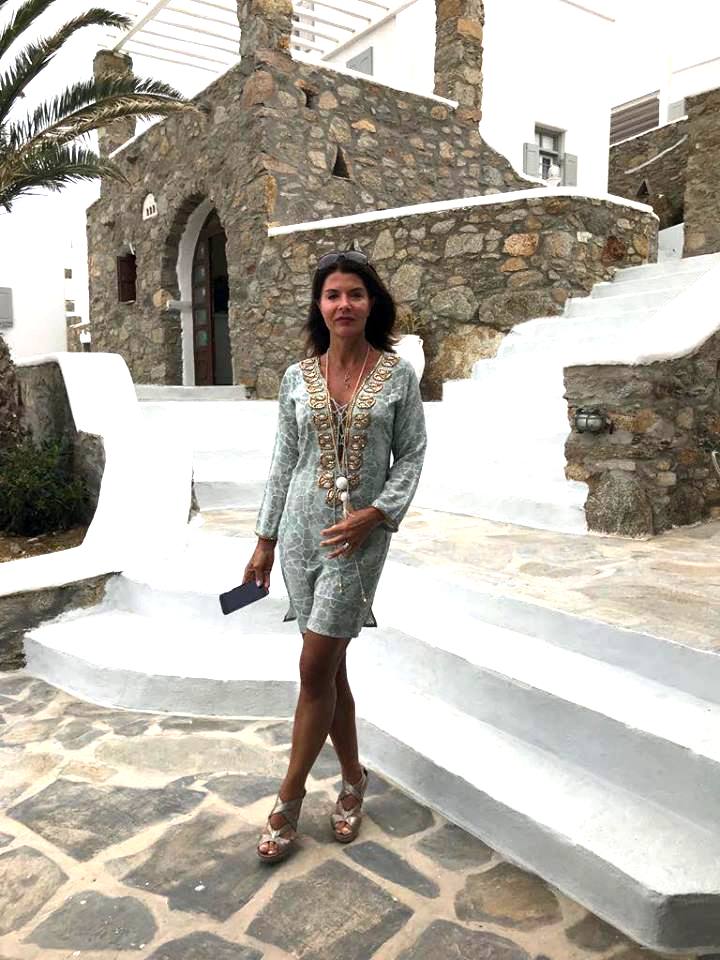 It may be sizzling in the UK this week, but Independant Travel Expert & Guest Blogger,  Lara Haworth, is still swimming in the clear blue waters of Mykonos, Greece.....
Without a doubt the island of Mykonos is worth grabbing a swimsuit and jumping on the next plane to Greece!
Mykonos  has something for everyone, it's not just aan all-night party island.....
Tip: You'll need four days to take it all in! So grab your suitcase and passport, because crystal-clear water is calling…
Like every Greek island, Mykonos has its own unique charm that sets it apart from the rest. The colorful walking streets of Mykonos town and vibrant energy of locals will make you want to wander the streets until you're lost (and indeed you will be in the labyrinth of winding streets; dotted with old ladies crocheting; beautiful chapels and contrasting cascading purple bougainvilla & pots of geraniums - NB endless instagram opportunities).
Mykonos buildings are typically cycladic ; preserved cubist styles – stark white squares with brightly painted balconies and doors not a highrise 1970's monstrosity in sight-  Bliss!
Mykonos Town is lined with ultra stylish chic boutiques but beware the shopping is actually overpriced cheap clothes OR way, WAY overpriced gorgeous clothes.  So make sure you pack your Kinky Octopus bikinis & beach wear, your Sophie Alexia Ibiza dress/breezy maxi dress BEFORE you go.
What to Pack?
Dresses and skirts- Mykonos is hot in summer and stays warm even after the sun goes down, so you'll live in sundresses here.
A Hat. Don't go to the beaches without one!
Multiple Kinky Octopus swimsuits. I couldn't resist the water, and you won't be able to either!
For the nightlife, any club dress will do or you can party on the beach in your Sophia Alexia sarong.
Blue and white everything. I couldn't help but accessorize in these hues.
What to Do?
Hire a boat. Even if it's just for an hour, it's worth it to get out on the water and experience Mykonos from a distance.
Rent an ATV. It's the best way to explore the island and discover hidden beaches and coves.. There's a beach for every mood-whether you feel like relaxing with a book (try Paraga or Agia Anna beach) or  partying (head to Paradise beach or JackieO's on Super Paradise beach on the south side of Mykonos) or Agios Ioannis beach & my favourite restaurant Hippie Fish of Shirley Valentine fame.
Watch the sunset from the windmills. Mykonos has 16 windmills, 5 of which are perched along the coast on the southern tip of Mykonos town. It's the perfect location to bring a blanket to sit on and cozy up for the sunset.
Have a sundowner in trendy bars of Little Venice - Venetian houses of extremely bright colours with wooden porches and balconies, lining the seafront almost falling into the sea with the waves coming to break under them -a wonderful & unique setting with incredible beauty and magical/surreal atmoshpere.
If you would like help booking your Mykonos holiday or any other destination please contact Lara 
https://www.facebook.com/LaraHaworthTravel/
http://www.independenttravelexperts.co.uk/store-information/?store_id=298
---
3 Responses
Leave a comment